Julie DeMay dreamed of being a published author, and in 2011 her first book was released — two years after she lost her battle with cervical cancer.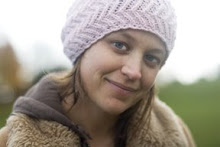 Julie DeMay
Cell War Notebooks is a compilation of the blog Julie kept during the last seven months of her life — it's beautiful, funny, brave and truly inspirational for anyone, whether you've been through cancer or not.
Today, independent authors are banding together to help promote her book. Anyone who has marketed their own work knows how difficult it is under the best of circumstances, but Julie can't promote her work anymore. All proceeds will go to her 9-year-old daughter, Luka.
What can you do? Spread the word, tweet about the book and this courageous woman, buy Cell War Notebooks. It's a small price to pay to help a little girl who is trying to navigate the world without her mother. Plus, you get to help make Julie's dream come true (or truer).